Visitor Information Kiosks
Last updated January 24, 2013 2:26:44 PM PST
Learn about the UCSD visitor information kiosks, where you can find campus information and buy parking permits.
Campus information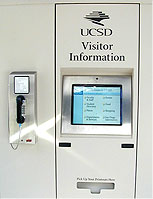 Visitor kiosks offer interactive touch screens that help visitors find their way around campus. Kiosk touch screens provide information on:
Faculty and staff contacts
Student directory
Places
Departments and services
Today's events
Food
Shopping
San Diego information
Transportation Services staffs 2 kiosks during the hours listed below (except on university holidays):
| Location | Weekdays | Weekends |
| --- | --- | --- |
| Gilman Information Center (map) 858-534-2208 | 7 a.m. – 7 p.m. | 7 a.m. – 5 p.m. |
| Northpoint Information Center (map) 858-534-8569 | 7:30 a.m. – 4 p.m. | Closed |
Parking permit sales
Permit pay stations next to the kiosks sell parking permits good for 45 minutes up to a full day. The customer service window does not sell parking permits.
Note: Do not buy a permit here if you plan to park in the Gilman Parking Structure (map). Only permits bought from pay stations inside Gilman Parking Structure are valid there.
Find parking reserved for visitors on Maplink (on the "Browse" tab, scroll down to "Parking Spaces: Visitor" and click box to view).  Read more about visitor parking.
Tell us how we're doing. If you have ideas for improving Transportation Services, please e-mail them to TellTPS@ucsd.edu.
Note: This page has a friendly link that's easy to remember: http://blink.ucsd.edu/go/visitor