How to Use ADA Transport
Last updated July 10, 2013 10:07:00 AM PDT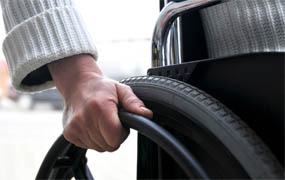 Learn how to use ADA Transport, free year-round campus transportation for students, staff, or faculty with disabilities.
If you are a student, staff, or faculty member with a disability, ADA (Americans with Disabilities Act) Transport can help you travel between ADA-compliant locations on the La Jolla campus via a wheelchair-accessible van or cart.
If you already have an ADA Transport login ID, use the online reservation system.
To arrange ADA Transport for visitors attending campus events, contact Special Events Parking, 858-822-2624, 7 a.m. – 5 p.m. weekdays.
Note: During the summer, service is available from 8 a.m. to 4:30 p.m. weekdays. Regular hours resume Sept. 23, 2013.
Contact the appropriate agency for instructions on how to validate your disabled status.
Receive your login ID via e-mail (if approved). The ADA Transport office communicates with customers electronically, so provide an e-mail account that you check frequently.
Access to ADA Transport is reserved for people with limited mobility. If you are not approved, alternatives include using the free campus shuttle system or parking with disabled person placards.
If your disability lasted longer than expected, contact the relevant agency above to resubmit medical documentation.
Rides are available 7:10 a.m. – 8:10 p.m. weekdays during academic quarters. Service ends at 5 p.m. during summer.
Request service to and from class, the Office for Students with Disabilities, Student Health Services, and Thornton Hospital. Off-campus service is not provided.
Use the online reservation service to schedule trips a day or more in advance.

Reserve a single or recurring pickup time. Rides are reserved on a first-come, first-served basis, so you may have to choose a pickup time that's earlier or later than your first choice.
Note: Newly registered passergers are not able to use online reservations service the first day of enrollment. To schedule a pickup on the first day of enrollment, call ADA Transport, (858) 822-2603, at least 30 minutes in advance.

Same-day service is not available.
To change a scheduled pickup, call ADA Transport, (858) 822-2603, at least 30 minutes in advance.
To cancel a ride, call ADA Transport, (858) 822-2603, as early as possible, but at least 30 minutes in advance.
If an unexpected condition will cause you to be late or miss your pickup — for example, you are unable to find parking near your scheduled stop — call ADA Transport and explain. As long as the change doesn't disrupt the driver's ability to pick up the next passenger, you can arrange a different campus pickup location.
Do not choose a wheelchair-accessible cart if you do not need one.
If your desired pickup time is not available, you will need to choose an earlier or later time. 
It's your responsibility to be at your pickup location at the scheduled time. Drivers wait no longer than 5 minutes.
Provide a cell phone number and carry it when a ride is scheduled so you can be notified of changes or delays.
Drivers will assist you out of the vehicle. If you need assistance getting to a specific room or floor, you must make your own arrangements.
If you miss a ride without canceling, your transportation services will be suspended until you contact ADA Transport and request to be reinstated.
If you forget your password, call ADA Transport , (858) 822-2603, 7 a.m. – 5:30 p.m. weekdays, to have your password reset.
Tell us how we're doing.
 If you have ideas for improving Transportation Services, please e-mail them to 
TellTPS@ucsd.edu
.