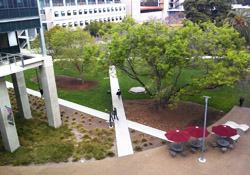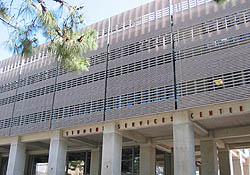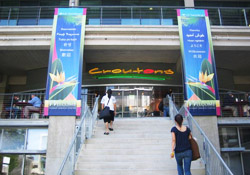 The 5-story, 76,000-square-foot Student Services Center at the corner of Rupertus Way and Myers Drive, just south of the Price Center expansion, across from the Chancellor's Complex (map).
The Student Services Center is a one-stop resource located in the heart of campus. With convenient access to several offices, students can complete a range of services by visiting only one location. The Center also serves as the gateway to UCSD, with over 40,000 visitors annually passing through. Students will visit the Center as they make the transition from prospective, to admitted, to current UCSD student.
Booking a conference room
To book a conference room in the Student Services Center, go to http://reservations.ucsd.edu.
Note: Conference room requests must be received at least 24 hours prior to your event. Multipurpose room requests must be received at least 2 weeks before the event date.
Offices and public spaces located in the Student Services Center:
Level 1:
Central Cashier's Office
Multipurpose room
Raza Resource Centro
Triton Center

Campus tours
Admissions advising for prospective students

Yogurt World
Level 2:
Registrar's Office
Crouton's: a fast, casual dining experience serving fresh salads, soups, and sandwiches
Level 3:
Financial Aid Office
Student Affairs Technology Services (SATS)
Student Business Services:

Billing
Campus ID cards
Loan services
Student accounts

University Events Office / ArtPower
Level 4:
Admissions and Relations with Schools
Graduate Division
Office of Postdoctoral and Visiting Scholar Affairs (OPVSA)
Level 5:
CARE @SARC: Campus Advocacy, Resources, and Education at the Sexual Assault Resource Center
Chancellor's Associates Scholarship Program (CASP)
Office of Student Conduct
Student Legal Services
Student Research and Information
Undocumented Student Services
VC Student Affairs Resource Management