Do not fill out the sample forms
The following forms are for reference only. Suppliers need to complete the form electronically. Issue the form electronically to a supplier here.
Marketplace has a highly secure and vetted supplier addition process, to protect both the University and the Supplier from risk and to mitigate errors in the order and payment processing by having the most current information on file.
The supplier form:
is online, secure, and encrypts sensitive and private information
includes the equivalent of W9 information, but asks for more than just the W9
contains an optional section for suppliers to identify themselves as a small and/or diverse business
confirms Remit-To and Payment information, offering the option for paper-free payments
protects the University and the Supplier by requesting the most up-to-date, accurate information
If you have received questions about completing this form from a supplier, they can be directed to the Marketplace Help Desk (mphelp@ucsd.edu) 
Domestic supplier (click the image below to see the entire form):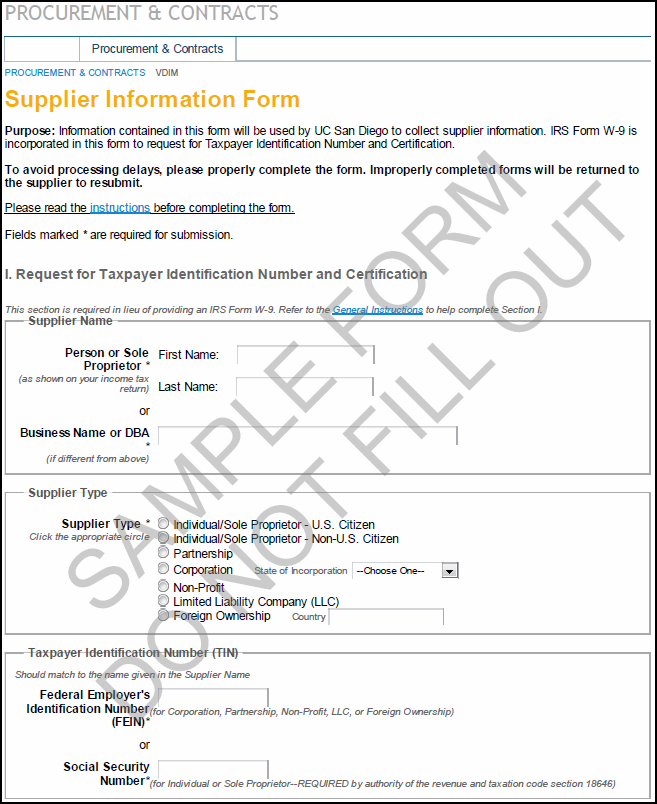 Foreign supplier (click the image below to see the entire form):