Writing Instrument Brigade
Last updated November 20, 2013 2:58:37 PM PST
Learn how to "upcycle" your defunct writing instruments and help the campus become zero waste by 2020.
In partnership with TerraCycle and OfficeMax, Procurement & Contracts has initiated a new program to divert defunct writing instrument from the campus waste stream.  With the cooperation of Mail Services, the campus can easily and efficiently upcycle their writing instruments through Intercampus Mail. The writing instruments will be consolidated through Mail Services and sent to TerraCycle, where they will be upcycled and made into fun and innovative products. The ultimate goal is to reduce the number of writing instruments being sent to landfills, and instead give those raw materials a second life as upcycled products.
Good Karma: TerraCycle will donate two cents for every writing instrument received to the UCSD Sustainability Resource Center.  All pens and pen caps, wooden pencils, mechanical pencils, correction tape dispensers and markers are acceptable including Sharpies, highlighters, and dry erase markers. 
In the 2011-2012 Fiscal year, Participating Departments at UCSD diverted over 6,000 writing instruments from local landfills. In FY 2012-2013, the campus diverted over 4,500.
For FY 2013-2014, the goal is to reach 7,200 writing instruments. Join the brigade to help our campus achieve this number!

Upcycling takes waste in its original form and makes it into something useful that has equal or greater value or quality. This is different from recycling since upcycling does not involve a chemical transformation of the object.
Set up a collection bin(s) in your office or building.
Drop off your writing instruments with the daily mail. Simply place them into an Intercampus Mail envelope labeled "used pens"
UCSD Mail Services will consolidate the writing instruments into one large shipment
Mail Services will ship the writing instruments to TerraCycle, where they will be upcycled into park benches, storage bins, and other new products
A Few Tips for Effective Collection
1. Make sure that all of the writing instruments being sent in to upcycle are actually defunct. People may often throw away pens in perfect working condition simply because they do not care for them. But remember, one man's trash is another man's treasure, and it is always better to reuse than recycle. Here at P&C, we go through our collection bins prior to mailing out our instruments and keep any that are still functional for personal/office use.
2. Place your collection bin(s) in high traffic areas, where people are more likely to notice them and reconsider their disposal options when they have a defunct instrument. For example, placing a bin nearby a garbage can may help re-route an instrument's placement in the trash bin, to your upcycle bin.
3. Spread the word! Make sure your colleagues know about the brigade! The better publicized it is, the more effective it will be in diverting writing instruments from landfills and giving them a second life.
The Writing Instruments Brigade is available to students via drop-off bins located in the Libraries and in the Sustainability Resource Center, adjacent to Price Center Theater.
Pictured Below: Collection bins in the Libraries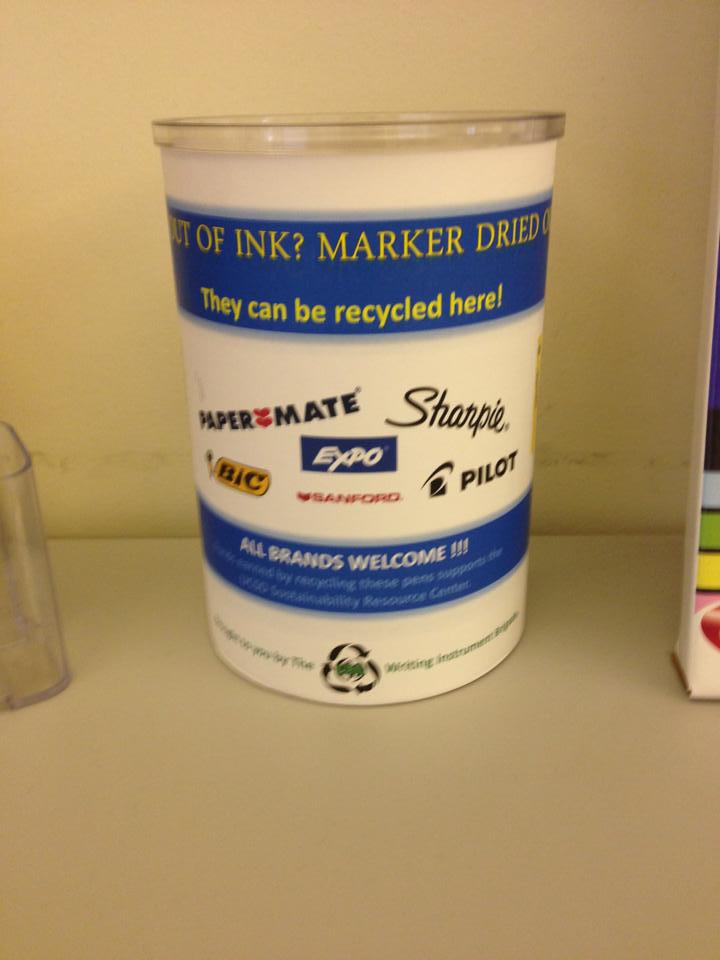 For more information, contact
Gayle Ta
, 858-534-3775.