(Re)Defining the UC San Diego Woman:
Keeping the Momentum
Date: Wednesday, March 7, 2012
Time: 9:00 a.m. – 12:30 p.m.
Location: Price Center West Ballroom (map)
Cost: Free
The conference is open to all UCSD faculty and staff.
About the conference
Strong leadership doesn't just happen; it takes gumption and grace to make it to the top. It's in each of us. It means finding your voice, discovering what excites you, and taking the risk to go after what you really want. Discover the strategies that will take your career from successful to extraordinary. Hear first-hand from some of UC San Diego's most remarkable business women in our community about the leadership style and career choices that got them to where they are today.  Attendees will have opportunities to learn about strategies and tools for professional development.
This conference will be a powerful event that features an empowering keynote speaker, a full roster of exhibitors catering to women and the breakout sessions will give you practical, relevant advice and tools to help you navigate through your personal and professional journey.
Program information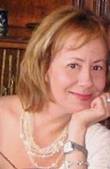 We are pleased to announce the keynote speaker, Barbara Field. She will be talking about "The One Thing: Gaining Momentum when You Don't Have a Moment to Spare". A graduate of Barnard College/Columbia University, Barbara is a writer, editor, marketer, speaker and consultant.  She was formerly on staff at CBS in New York. Her novel, The Deeper, The Bluer, won a Writer's Digest fiction award. She is currently a Senior Analyst in Business and Financial Services at UC San Diego, Op Ed Project Regional Manager and Afghan Women's Writing Project mentor. She is also an instructor for UC San Diego Extension and Whidbey Island Writers Conference.
Conference Program
View the conference program (PDF).
View the PowerPoint presentations for:
Registration
Attendance is limited. Registration is now closed.
Vendors offering discounts
Plan to visit the East Ballroom where many campus resources and independent vendors participating in the event will be located.
Price Center food vendors will be providing a discount to conference participants the day of the conference only. You must show your conference name tag and flyer to receive the discount. Flyers will be made available at the conference. View the list of vendors.
Sponsors
The conference is hosted by the Chancellor's Advisory Committee on the Status of Women and made possible with generous donations from the following sponsors: 
Atlanta West Catering

Convergence
 

Hotel La Jolla

Neyenesch Printers

RU Sports Performance Center

The San Diego Women's Foundation

Taylor & Pond Digital Communications, LLC

UC San Diego:

Office of the Chancellor
Committee on the Status of Women
Executive Vice Chancellor for Academic Affairs
Vice Chancellor for External & Business Affairs
Vice Chancellor for Health Sciences
Vice Chancellor for Marine Sciences & SIO
Vice Chancellor for Resource Management & Planning
If you are interested in sponsoring the event or underwriting opportunities, download our Sponsorship packet. If you are interested in making an in-kind donation for the event, perhaps a raffle item, you will need to download the in-kind donation form and send it in or drop it off with your donation item. For more information, contact Meredith Caccese McConvill via email at mcaccese@ucsd.edu.