Equal Opportunity/ Affirmative Action and Diversity Award Recipients
Last updated February 28, 2013 4:40:47 PM PST
Find information about UC San Diego's Diversity Champions.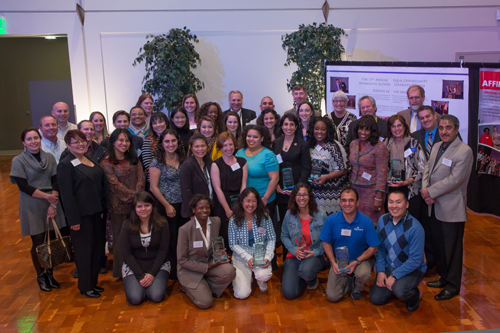 The Equal Opportunity/ Affirmative Action and Diversity Awards Program honors individuals and departments that show outstanding support for the UCSD Principles of Community.
The following 2012 Diversity Champions were honored at a ceremony on Feb. 13, 2013. Find out more about the awards and ceremony.
Vice Chancellor recipients:
R. Bruce Arnold - Vice Chancellor Academic Affairs
HireOnline - Vice Chancellor External & Business Affairs
Jill Dumbauld Nery - Vice Chancellor Health Sciences
Leslee Matsushige - Vice Chancellor Marine Sciences
Fernando Nosratpour - Vice Chancellor Marine Sciences
Joseph R. Romero - Vice Chancellor Resource Management & Planning
Ann Klein - Vice Chancellor Student Affairs
Aaron J. Byzak - UC San Diego Health System
University-wide recipients:
Department/ unit recipients: