About the Principles of Community
Last updated April 5, 2010 11:33:59 AM PDT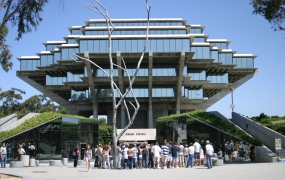 Learn about the Principles of Community, a collaboratively developed statement, issued by the chancellor, that provides a framework for diversity and affirms the unique contribution of each member of the UCSD community.
Background
In 1998, then-Chancellor Robert C. Dynes, joined by the vice chancellors, academic senate chair, and student leadership, issued the UCSD Principles of Community.

The Principles were developed by the Diversity Leadership Team (comprised of UCSD vice chancellors and department directors), and many other members of the UCSD community, including faculty, staff, and students. Former Chancellor Dynes reaffirmed the Principles in January 2001, and Chancellor Marye Anne Fox called for another reaffirmation in April 2009.
Goals
The goals of the Principles include:
Providing fair treatment for faculty, staff, and students
Encouraging a climate of fairness, cooperation, and professionalism
Fostering inclusiveness, respect, and a welcoming environment
Promoting collaborative attitudes and actions
Implementation
Today, the UCSD Principles of Community are implemented in a wide variety of ways in both the academic and business aspects of the university, such as:
One of four areas (UCSD Principles of Community, Diversity, Health and Safety, and Customer Service) in which individual performance is rated on the Performance Appraisal and Development model
A handout given to all new students
A subject discussed in several Staff Education and Development courses
A featured topic in the New Employee Orientation program
A component of many UCSD publications, including the general catalog and the financial report
This page has a friendly link that's easy to remember: http://blink.ucsd.edu/go/community